The Handy Laser Welding Machine Show
Remcor Fiber laser welding machine with the character of high efficiency, low requirement for environment and operator. Even the new stuff can make good welding performance. low maintenance cost. Compared with traditional ARC welding, it is 2 times faster and more beautiful in welding speed and performance, and it is friendly to the environment. With so many advantages, which is widely applied in sheet metal fabrications.
The hand-held laser welding machine adopts fiber to transmit high energy and density laser, it's flexible and convenient to operate by welding the stainless steel, aluminum alloy and other materials by using the hand-held welding machine.
Hand-held welding machine is integrated with fiber lasers, hand-held welding head, laser control system, safety light extraction system and water cooling system. The overall design is small, beautiful, and portable, which make it easy for customers to choose their working environment without space limitation.
This set of machine can be widely used in billboards, metal door frames, water bottles, sanitary ware and mold repair industries.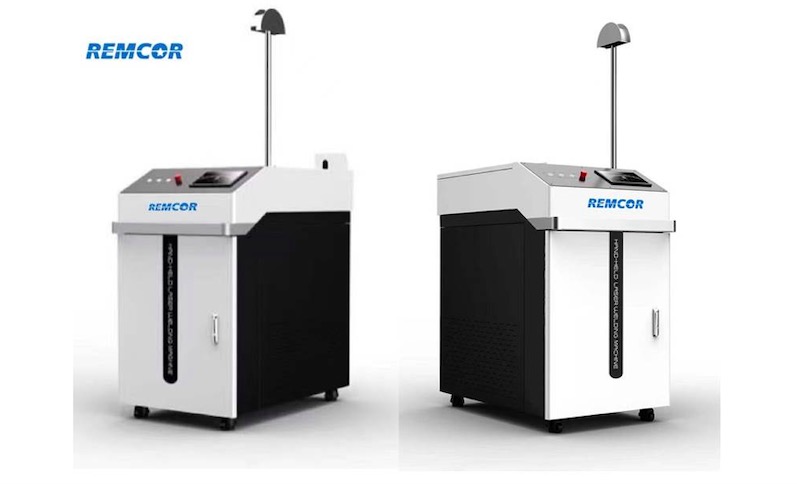 Hand-held laser welding machine, using infrared precise positioning, is flexible and convenient to make firm metal welding. The welding process leaves either no residues or consumables. The welding seams is not easy to deform, which is widely applied to welding large and medium-size workpieces, like cabinets, door and window frames, stairs, elevators, stainless steel furniture, chassis, etc...With various power, it can realize long-distance spot welding, full welding, continuous welding, sealed welding, etc. which will be a great helper for your metal design.
The Comparison of Handy Fiber Laser Welding and Traditional ARC Welding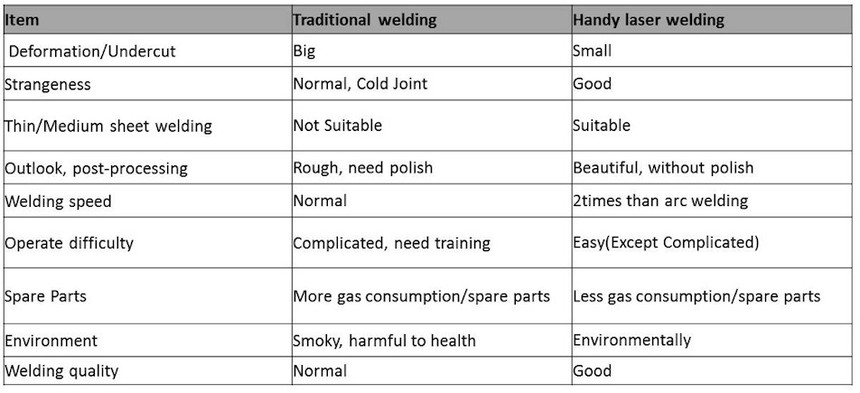 Professional Laser Welding Machine Features

New green laser welding. Compared with traditional argon or tig mig welding, the laser welding is quite more friendly to the operator and also to the environment.

3 or more times faster speed in welding, compared with traditional welding.

Low cost in labors, no need professional welding operators. Even the beginners can have good welding finish, no need secondary polish after welding.

All the main parts were built in from the original famous brand, which ensures 8-10 years lifetime for the equipment.
Six Light Models Features
Welding performance
Meet different light spot requirement such as Internal corner, outer corner, downward welding, cladding welding etc.

Swing range of focus point position (power density) can be adjusted, adjusting range:0.2-5mm.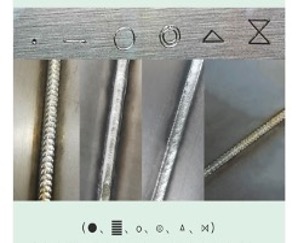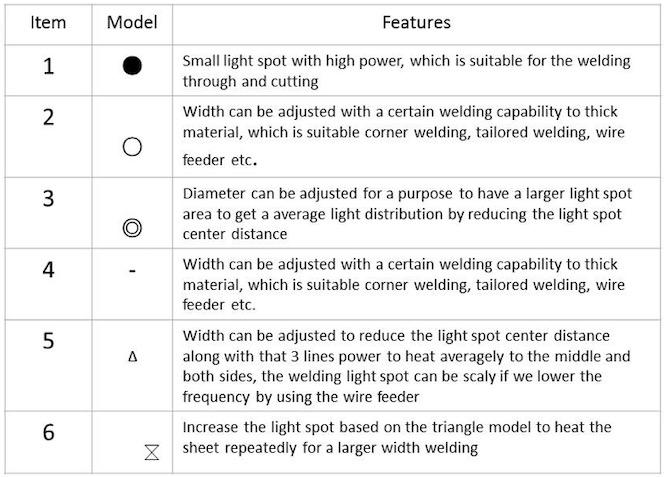 The Main Parts of Our Handy Laser Welding Machine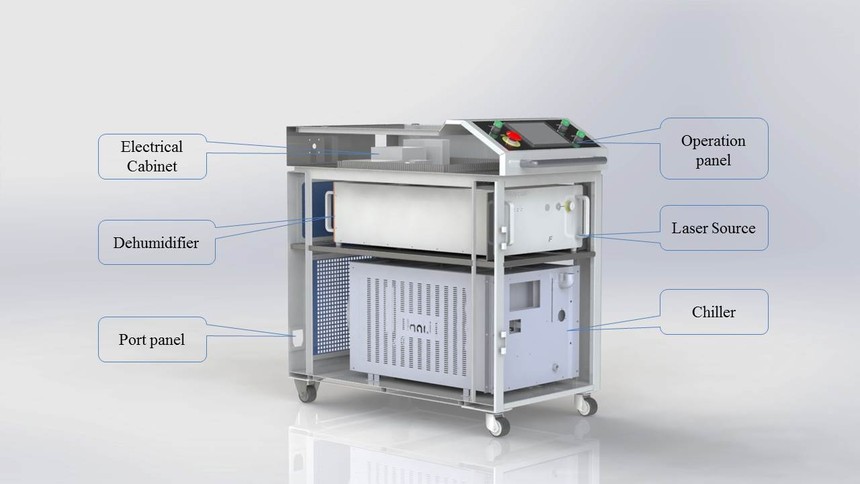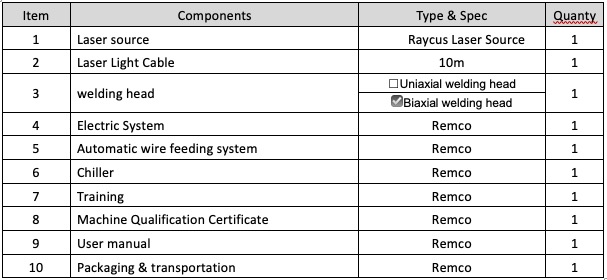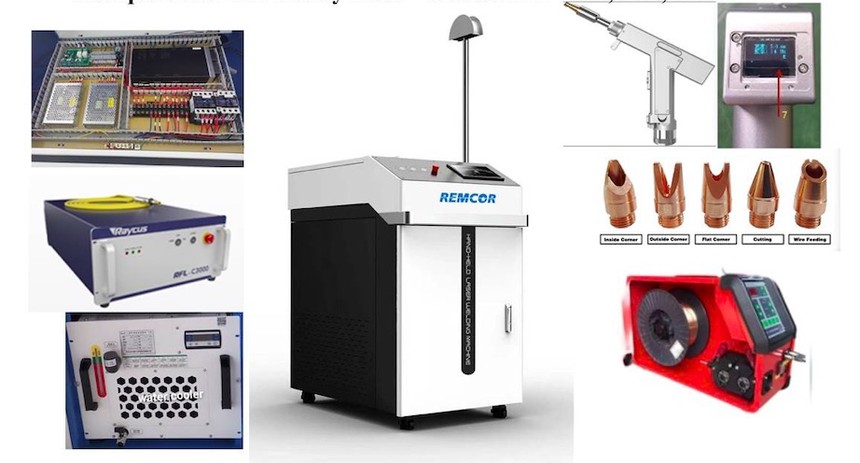 Professional Laser Welding Machine Parameter Details
model

AWN-1000

AWN-1500

AWN-2000

Laser type

Continuous fiber laser

Rated output power

1000W

1500W

2000W

Power adjustment range

10%~100%

Laser center wavelength

1080±3nm

output method

Continuous/modulation

Maximum modulation frequency

50kHz

Power instability

<3%

Fiber output interface

QBH

Indicating system

Red light

Length of welding torch cable

8m

Torch type

Wobble welding head

Collimated focal length

60mm

Focus focal length

150mm

Torch weight

About 0.8 kg

Protective gas

Coaxial protection

Adjustable weld width

0~5 mm

product structure

All-in-one

Product size L*D*H

1200*600*1300mm

product weight

240kg

270kg

Working temperature

0~40℃

Working environment humidity

<70%

Operating voltage

Single-phase 220VAC (must be grounded) / three-phase 380VAC (must be grounded)

Total power

<5kw

<7kw

<9.5kw
Recommended welding thickness for different materials

Material

AWN-1000

AWN-1500

AWN-2000

Stainless steel

1.5mm

2mm

3mm

Carbon steel

1.5mm

2mm

3mm

Galvanized sheet

0.5mm

1.5mm

2mm

Aluminum alloy

1mm

1.5mm

2.5mm